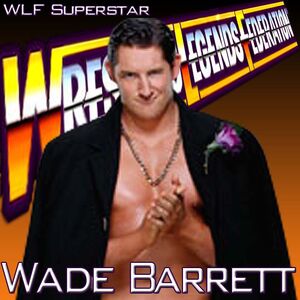 Wade Barrett is an English pro-wrestler who was  contracted to the WLF.
He was briefly one of the Four Horsemen.
He briefly teamed with Shaemus as The European Union.
WLF Career
Edit
On 13 February 2012, Wade Barrett was revealed to be the mysterious Rose Rogue, a man who had been assaulting members of the Four Horsemen, including Tully Blanchard who was forced out temporarily due to the injuries he sustained.
The following week Wade competed in the Royal Rumble, coming in at number 29. Everybody thought he was working for Ted Dibiase and the Million Dollar Corporation, however after eliminating the Million Dollar Man he revealed that he was in fact siding with the Four Horsemen. The attacks against the Horsemen had been staged!
He was the last man eliminated from the Rumble.when Lord Steven Regal took him out, thus gaining some element of revenge for the Million Dollar Corporation.
The following week on Prime Time, Barrett joined fellow Horsemen, Windham, Steamboat and Arcidi in attacks on wrestlers during the show.
He disappeared from the WLF soon after, but on 22 April 2013, at Wrestlemania II, he returned to compete in a 30 man battle royale, the winner of which would win a full time contract with the WLF. He was unsuccessful in his bid after being the last man eliminated.
On 16 June 2014, he returned, along with Shaemus and disrupted a match involving the Shield and Stars & Stripes. On 23 June 2014 at World War III, Wade Barrett took part in the main event battle royale.
He and Shaemus were fired in August 2014 after a disagreement with new WLF President Ted Dibiase.
Notable Feuds
Edit
Lord Steven Regal
Zoltan (2012-2013)
Nexus619 (2014)