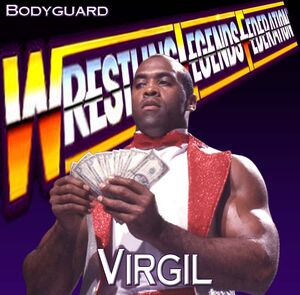 Virgil is an African-American pro-wrestler, who wrestled brielfly in the WLF. He was brought in my Irwin R Shyster as an assistant.
WLF Career
Edit
Virgil first appeared in the WLF as an assistant to Irwin R Shyster 5 Sept 2011. He wrestled  his debut match on 17 Oct when he teamed with Repo-Man and IRS against Diesel and the Rockers
He left the WLF in late 2011 but returned at Halloween Havoc on 21 October as Ted DiBiase's new bodyguard. He was replaced two weeks later by Andre the Giant.
Section heading
Edit
Write the second section of your page here.