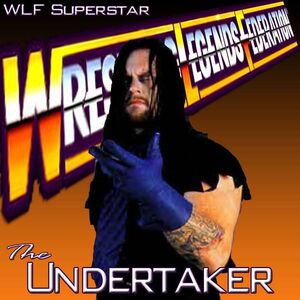 The Undertaker is an American pro-wrestler from Death Valley California. He is currently contracted to the WLF
Was once part of the tag team the Brothers of Destruction.
Managed by Paul Bearer
WLF Career
Edit
The Undertaker first appeared in the WLF on 25 July 2011 where he was introduced to the WLF fans along with his manager Paul Bearer 
On 1 August the Million Dollar Man, Ted DiBiase attempted to recruit the Undertaker as a member of the Million Dollar Corporation. The Undertaker refused, so DiBiase set Andre the Giant on him.
The Undertaker made his debut match on 15 August, one week before Summer Slam when he defeated the Million Dollar Man via count out.
At Wrestlemania 2012 he wrestled a Casket Match against Ted Aricidi. During the match Kane came out to aid the Undertaker. This began a new reign of terror with Kane and the Underaker teaming up as the Brothers of Destruction.
He continued in tag team competition for the next year, however at Wrestlemania 2, he took on Matt Morgan in a "Buried Alive" match. With the help of several other men, Morgan managed to bury the Undertaker. The Undertaker was not seen again until 3 June when he arrived in the middle of his brother's match on a motor cycle. He was back as the American Badass and he joined Kane to beat up Harlem Heath.
In early 2014 he once again disappeared, but returned as the dead man to challenge Josh Arcanum on 31 March 2014.
At Wrestlemania 3 the Undertaker was defeated by Josh Arcanum with help from The Family Unit and the Grand Experiment.
The week before Summer Slam 2014, the Undertaker was targetted by druids who attacked him in the ring. The following week he was set to wrestle a Hell in the Cell match against a mystery opponent, the leader of the druids. The mystery oppenent turned out to be Jake the Snake Roberts, looking to cleanse the Undertaker and make him part of his ministry.
In early 2015 he once again took on Paul Bearer as his manager.
Notable Feuds
Edit
Matt Morgan
The Mega bucks
Christ Jericho
Jake the Snake Roberts
Josh Arcanum
2011-2012: kg24nmfan
2012-now: Nexus619