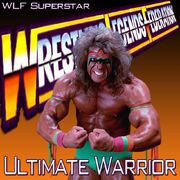 The Ultimate Warrior is a WLF superstar, one of the first to be signed to the WLF.
He was the founder of the One Warrior Nation, which included Texas Tornado; Kerry Von Erich and the Legion of Doom
He is a former member of the NWO
He is a former WLF Champion.
WLF Career
Edit
The Warrior appeared on the very first Prime Time on 23 May 2011 when he came in at the end of Ted Arcidi's match against Mr Perfect. and shook the ropes. He then returned the following week after Arcidi's match and did the same thing again, thus sending out a clear signal that he was challenging Arcidi to a match.
The Warrior made his debut match against Arcidi the following week 6 June 2011 and won the match. On the 18th July the Warrior suffered three powerbombs at the hands of Sycho Sid which forced him out of wrestling for two months. He returned on the 26 Sept with a new stable of wrestler named One Warrior Nation. This included the Texas Tornado: Kerry Von Erich and former tag team champions the Legion of Doom. Come Survivor Series however, after an unsuccessful match against the Twin Towers and Demoltion, the Warrior again left the WLF along with the other members of OWN.
The Warrior didn't return until 18 June 2012 when he appeared as a mystery tag team partner for Christopher Knight, in a three way dance involving the Rockers and the Steiners. Later in the match he shocked the WLF when he and Knight turned on the Rockers and sided with the Steiners, thus showing they were now part of the NWO.
The Warrior was only around for a short while before he once again departed from the WLF, however on 10 June 2013, he returned yet again debuting agianst newcomer Josh Arcanum.
He left in early Oct, unable to agree to contract terms with the WLF.
Leading up to World War III in June 2014, teasers came on Prime Time at the return of the Warrior. He returned for the World War III battle royale on 23 June, eliminating several opponents and surviving to the latter stages, but was unsuccessful at winning the match.
On 26 Jan 2015 he became the WLF champion for the first time after defeating the Macho Man Randy Savage.
He lost the title on 23 Feb 2015 at the Royal Rumble in an Elimination chamber match which was won by Jake the Snake Roberts.
2011: wwfclassic80s90s
Late 2011: ??
Jun 2012: Nexus
2013: Vinny1979
2014: Kevin7ee