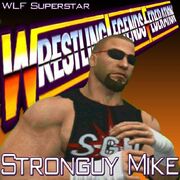 Stronguy Mike is an American professional wrestler hailing from Newark, New Jersey. SGM, as he was often referred to, has a younger half brother, Mike the Madman, who served as his sidekick.
WLF Career
Edit
Stronguy Mike was one of the pioneer members on the initial WLF roster, joining in May 2011 when the doors first opened. On the very first episode of Prime Time, SGM competed against three other debutants, Bryan Davidson, Triple H and the Texas Tornado. SGM's over-protective nature over his half-brother, Mike the Madman, resulted in his eventual loss. Madman attempted to assist SGM, but only managed to raise the ire of Triple H. The Cerebral Assassin took it upon himself to assault the younger Mike down ringside, prompting SGM to abandon the match as he engaged the former in a brawl on the outside.
The feud with Triple H carried over to the May 30 episode of Prime Time, which was also the last appearance for SGM. Originally scheduled to be a Grudge Match, SGM took it upon himself to assault Triple H before the match and sent The Game plummeting fifteen feet off the top of the ramp. While Triple H had to miss months of action due to injury, SGM was suspended for his actions and subsequently parted ways with the WLF.
On 22 April 2013, at Wrestlemania II, he returned to compete in a 30 man battle royale, the winner of which would win a full time contract with the WLF. He was unsuccessful in his bid.
Notable Feuds
Edit
Triple H