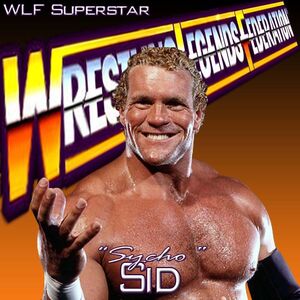 Sid Vicious, also known as Sycho Sid, is a former American pro-wrestler who has wrestled on and off in the WLF.
He is the former Bodyguard of Bryan Davidson and was also a member of the Million Dollar Corporation.
He is a former member of the New Horsemen.
He briefly tag teamed with Big Daddy Cool Diesel as the Skyscrapers.
WLF Career
Edit
Sid made his debut in the WLF on 6 June 2011, being announced as the new bodyguard of Bryan Davidson. He joined Davidson and Brian Pillman in a 6 man tag match against Stone Cold Steve Austin and the Rockers.
On 5 Sept 2011, Sid was forced out of wrestling due to a vicious assault on him by Jake the Snake Roberts.
It wasn't until 30 Jan 2012 that Sid appeared in the WLF again, this time as the mystery partner for the Million Dollar Man Ted DiBiase. He was also revealed to be the latest member of the Million Dollar Corporation. They fought and beat Tully Blanchard and Ricky the Dragon Steamboat.
After the Royal Rumble in Feb,  he again departed from the WLF but returned in a one-off appearance in the World War III battle royale event on 2 July 2012. He wasn't seen again until June 2013 where he was brought back to the WLF as the newest member of the New Horsmen.
On 23 Sept 2013 turned on his Horsemen allies when he attacked Curt Hennig and Triple H after their tag team title match. The following week in a steel cage match against Barry Windham, a masked man interferred to aid Sid and it turned out to be Big Daddy Cool Diesel, Sid's new tag team partner. The Skyscrapers.
His contract was not renewed for 2014
Notable Feuds
Edit
Jake the Snake Roberts
2011: RyGuy90
2012: Recker
2013: Nexus