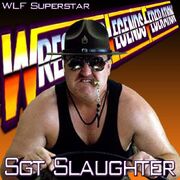 Sgt Slaughter is an American pro-wrestler contracted to the WLF.
He tag teamed with the Masked Superstar as Stars & Stripes.
Managed by the Grand Wizard
WLF Career
Edit
Sgt Slaughter made his first appearance as the mystery partner of Dangerous Danny B, replacing the injured Andrew Darner. On the 30th, Sgt Slaughter once again joined the Demolition Express in a six man tornado tag match, with the Masked Russians being joined by Ivan Koloff. The match ended with the Russians claiming victory and the titles.
Sgt Slaughter did not appear in the WLF again until 11 June when he acted as the guest enforcer for a match involving Rocco Glenbridge and Danny B
Slaughter was finally offered a full time contract in Jan 2012 when the Grand Wizard teamed him with the Masked Superstar as Stars and Stripes. They debuted on 14 Jan defeating James Bond and Lord Steven Regal.
He was not around very long and left the WLF shortly after, but returned again in May 2014 to join his friend the Masked Superstar.
His contract was not renewed for 2015