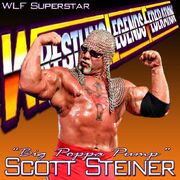 Scott Steiner is an American Pro Wrestler. He has wrestled as a tag team specialist with his brother Rick and has also wrestled solo as Big Poppa Pump.
He is a former member of the NWO
WLF career
Edit
He first appeared in the WLF on 4 July at Independence Day where he took part in the Tag Team battle royale for the Tag team championship along with his brother Rick. On 25 July 2011, Scott made his singles wrestling debut, challenging Ted Arcidi. Two weeks later they had an arm wrestling contest which ended when the table broke.
At Summer Slam he took on Arcidi again, this time in a strap match. He then left the WLF, but returned on 21st May 2012, along with his brother Rick, as member of the NWO.
Notable feuds
Edit
Ted Arcidi
2011: DubyaCeeDubya
2012: Nexus619