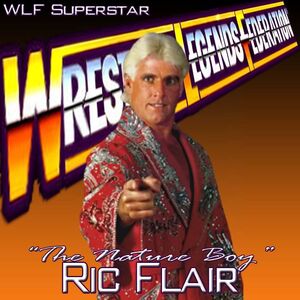 The Nature Boy Ric Flair is an American pro-wrestler currently signed to the WLF. For some time he was contracted to the NWA but turned his back on the NWA in early Jan  2013.
He is the manager of the Four Horsemen.
He is a former NWA champion.
He is the current WLF champion.
WLF Career
Edit
Ric Flair made his first appearance in the WLF at Wrestemania 2012 where he officiated the match between Barry Windham and Ricky the Dragon Steamboat to determine which one of them would lead the Four Horsemen. In the end Flair aided Wiindham by declaring that Steamboat had submitted to the Claw hold when really he hadn't.
At the 2013 WLF Royal Rumble, Flair entered as Number one, and managed to outlast all 29 other men, eliminating six others,, including Steven Regal. With Regal's elimination, Ric Flair won the Royal Rumble Match, and will headline WrestleMania.
In April 2013 Flair took over the running of the Four Horsemen, ousting Barry Windham from leadership. He announced that Tully Blanchard and Arn Anderson were part of his new Horsemen. On 8 April he announced that their fourth man would be Lord Steven Regal.
On 22 April 2013 at Wrestlemania II, he defeated Barry Windham in a 60 minute iron man match to capture the NWA world championship.
On 26 August 2013 at Summer Slam Flair lost the title back to Barry Windham in a 6 man battle.
After Survivor Series 2013, the Four Horsemen disbanded due to Flair being forced out due to injuries. He did not return in the new year.
Flair finally made his return to the WLF in Feb 2015, as manager of the Four Horsemen.
At World War III on 10 July 2015, he defeated WLF champion Pharaoh to become the WLF champion.
Notable Feuds:
Edit
2012: Kevin7ee
2013: Frank Rizzo
2015: Zoltan