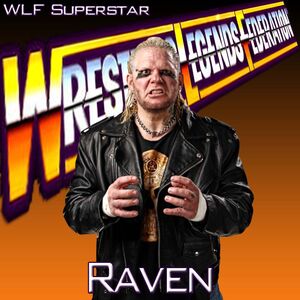 Raven is an American pro-wrestler contracted to the WLF.
He is a former X-Division Champ
WLF Career
Edit
Raven made his debut match in the WLF on 30 July 2012 against Goldberg.
In early 2013 he sustained injuries and had to take time off to recuperate, but returned at the Royal Rumble. announcing that he was back in action.
On 22 April 2013, at Wrestlemania II he wrestled in a 4 man Bowry Cage match to capture the X-Division championship, however lost it a week later on prime time in a match against Goldust. CM Punk interfered in the end and as a result of the 24/7 rule was able to snatch the title away from him by pinning him.
He left the WLF shortly after that, but returned once more on 3 Feb 2014 to resume his career.
2012-2013: Dangerous by Design