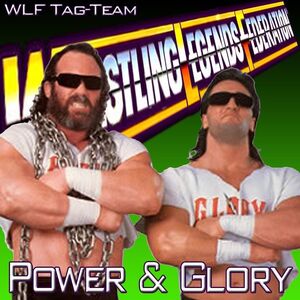 Power and Glory is an American tag team made up of Hercules Hernandez and Paul Roma.
They were managed by Sunny
They disappeared from the WLF after competing in World War III in July 2012
WLF Career
Edit
They made their debut on 21 May 2012 as a mystery tag team. They defeated the British Bulldogs.
They virtually faded into oblivion after World War III in July 2012, although did compete in the 20 team battle royale at Summer Slam.
They made one further appearance on 22 April 2013, at Wrestlemania II, when they returned to compete in a 30 man battle royale, the winner of which would win a full time contract with the WLF. They were unsuccessful in their bid.
Return To WLF
Edit
May 2014: Hercules returned to the WLF accompanying Maestro Punk.
2012: Kevin7ee