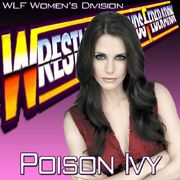 Poison Ivy is an American Pro wrestler assigned to the WLF. She is in the diva's division.
She was briefly managed by AJ Lee
She a 2x WLF Diva's champion 
WLF Career
Edit
Ivy had her debut match on WLF Superstars on 5 March 2013 against Jillian Hall. She won this via count out when she threw Hall out of the ring. After winning, she attacked Hall and bloodied her with a barbed wire baseball bat.
Ivy began targetting fan favourites with brutal assaults. In June 2013 she abducted both Nasty Girl and AJ Lee, taunting Vanessa Dante who had disappeared from the WLF after dropping her title at Wrestlemania II. Poison Ivy attempted to bury Nasty Girl and AJ Lee alive, but Vanessa Dante arrived just in time to stop her. A "Buried Alive" match was agreed upon at Word War III, where Vanessa vowed it would be her last match and that she was going to make Ivy pay for what she had done to Nasty Girl and AJ. An added stipulation was that if Vanessa lost then AJ would bcome Ivy's valet. Ivy went on to win the match at World War III and AJ became her valet/manager.
On 26 August 2013 at Summer Slam she won a MITB match. That same night she cashed it in to defeat champion Bull Nakano and capture the Diva's title. She lost the title at Halloween Havoc a month later to Lita in a triple threat match which also featured the returning Vanessa Dante looking for revenge on Ivy.
On 28 April 2014 at Wrestlemania III she once again became the diva's champion after winning a steel cage match against Paige. To do so she had to risk injury by jumping from the top of the steel cage to beat Paige to the floor. She landed and crashed through the Spanish announcer's table.
At Summer Slam 2014 on 25 August, she lost her diva's championship to LSD, thanks to interference by Vanessa Dante, who had attacked her. The Bushwhackers had earlier been assaulted by the EWO who were working on behalf of Ivy.
Section heading
Edit
Write the second section of your page here.