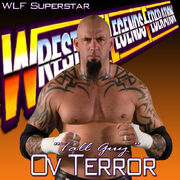 The "tall guy"
Ov Terror is an American pro-wrestler who was the leader of "Terror inc" a now defunct wresling stable.
He has now returned with a new faction called "SANE"
WLF Career
Edit
Ov Terror first appeared at the Independence Day 2011 pay per view where he brutally assaulted Big Daddy Cool Diesel. The following week on Prime Time he revealed Terror Inc, which was made up of himself along with Edge and Christian. That night he defeated Razor Ramon in his debut match. 
He left the WLF in late 2011 due to a mental breakdown in which time he was committed into a mental institute, which he blamed on Terror Inc members Edge and Christian.
He was temporarily released on 22 April 2013, at Wrestlemania II, to compete in a 30 man battle royale, the winner of which would win a full time contract with the WLF. He was unsuccessful in his bid and was promptly readmited back into the mental asylum.
While in tbe mental institute he made some "friends" in a rich party boy named Gavin Sage and former wrestler gone nut Harley Quinn. The three of them orchestrated a plan to leave the hospital with a clean bill of mental health and have vowed to make WLF their new asylum.
While in the institute, a member of the WLF roster, Dink, was there doing community service. Ov took to him immediately given his obsession with midgets. Dink became Ov's personal assistant and through him Doink, someone else who has teetered on the edge of loony, has also joined the 3 to be in "SANE".
Members of Sane
Edit
Dink the Clown
Notable Feuds
Edit
Big Daddy Cool Diesel