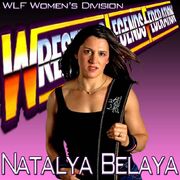 Natalya Belaya (The Siberian Shooter)  is a drug-free Russian powerlifter, strongwomen and pro-wrestler contracted to the WLF. Natalya was trained in the Hart Dungeon. She was one of the first women signed up and  was the very first WLF woman's champion and has held the title twice. One of those reigns was the longest reign in WLF history.
She is a former member of the Million Dollar Corporation but was dumped from the Corporation when she lost the woman's title to Mickie James.
Managed by Tazz 
WLF Woman's championship
Edit
Natalya has held the title twice
1st Reign = 22 Aug 2011 - 5 Dec 2011 (won a five woman championship scramble)
2nd Reign = 20 Feb 2012 - 22 Oct 2011 (the first 2 months of this reign were shared with Mickie James due to both women winning a battle royale with their feet touching the ground at the same time)
WLF Career
Edit
Natalya made her debut on 18 July 2011 as the newest member of the Million Dollar Corporation. She wrestled Nasty Girl in her first match.
At Summer Slam 2011, Natalya became the first WLF Woman's champion by defeating  Chyna, Maryse, Krystal Aos and Nasty Girl in a 20-Minute Championship Scramble
On 5 Sept 2011, Belaya offered Chyna a shot at her world title, but if she lost she had to leave the WLF. The following week Belaya defeated Chyna which forced the 9th wonder of the world out of the WLF.
At Survivor Series she had to defend her title in a six pack challenge, but in the end it was Mickie James who won. Ted DiBiase fired Natalya from the Million Dollar Corporation because of the loss. Shortly afterwards she took on Tazz as her manager
On 30 Feburary 2012, she and Mickie James both won an 8 diva battle royale when both women's feet touched the ground when trying to elminate each other. The winner was supposed to be the new WLF woman's champion which was vacated after Nasty Girl had to forfeit her title due to injuries. They were both deemed to be co-holders of the title.
Finally a match was scheduled at Wrestlemania to determine once and for all who the WLF woman's champion would be. It was a ladder match and it was Natalya who won thanks to interference from Tazz.
on 22 Oct 2012 at Halloween Havoc she lost the title to Booty Girl in a triple threat match, which also included Trish Stratus.
Notable Feuds
Edit
Nasty Girl
Chyna
Mickie James
BrazodeOro