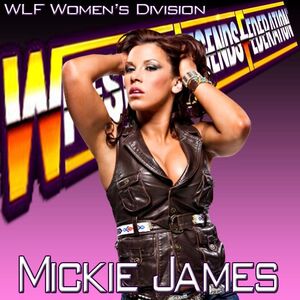 Mickie James is a pro-wrestler currently contracted to the WLF woman's division. She is a former 2x WLF Diva's champion, and she is currently engaged to Jose DeJesus.
Former diva's tag team champion.
WLF Career
Edit
Mickie first appared in the WLF on 19 Sept 2011 as a spectator, gaining attention from both Brian Pillman and Jose DeJesus. The following week she interferred in an Intercontinental match between the two men, costing Pillman his title. She turned out to be Pillman's ex girlfriend and was now with Jose DeJesus.
In early October attacks were being made on WLF divas. Nasty Girl was one of the ones assaulted. It was learnt that the attacker was female. Nasty Girl challenged the attacker to a match on 17 Oct. The attacker came to the ring in a mask, but Nasty Girl managed to remove her mask to reveal Mickie James.
On 5 Dec 2011 at Survivor Series she competed in a Six Pack Challenge and captured the WLF Diva's championship.
On 30 Jan 2012, she lost the title to Nasty Girl in a triple threat match.
On 30 Feburary 2012, she and Natalya Belaya both won an 8 diva battle royale when both women's feet touched the ground when trying to elminate each other. The winner was supposed to be the new WLF woman's champion which was vacated after Nasty Girl had to forfeit her title due to injuries. They were both deemed to be co-holders of the title.
Finally a match was scheduled at Wrestlemania to determine once and for all who the WLF woman's champion would be. It was a ladder match and it was Natalya who won thanks to interference from Tazz.
In late 2012, Brock Lesnar brutally assaulted Mickie, putting her out of action for some time. Jose DeJesus got some measure of revenge for her when he defeated him in a last man standing match at Survivor Series 2012
Around August 2013, Mickie took some time off from wrestling when her fiance Jose DeJesus suffered injuries. She returned (along with him) at Wrestlemania III in April 2014 where she was a mystery entrant into the Diva's tag team battle royale.
On 13 May 2014 she and Trish Stratus became WLF Diva's tag team champions after they defeated Moxie and Bella. In June however at World War III she lost a match to her tag team partner Trish, which meant that now Trish was the sole holder of the tag team title.
Notable Feuds
Edit