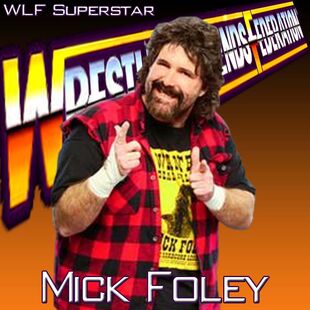 Mick Foley is an American pro-wrestler who has wrestled under many personas.
Formerly managed by Paul Heyman
Now tag teams with the Rock as the Rock N Sock Connection
WLF Career
Edit
Foley first appeared in the WLF under the persona of Mankind. On 15 August 2011, he came out in the corner of the Million Dollar Man in his match against the Undertaker. His interference cost him a tombstone pile driver at the hands of the Undertaker.
Mankind made sporadic appearances in the WLF over the next year:
At Survivor Series when he joined Team Smackdown with the Rock, Saba Simba and Rocky Johnson.
On Prime Time 6 Feb 2012 when he attacked the Undertaker.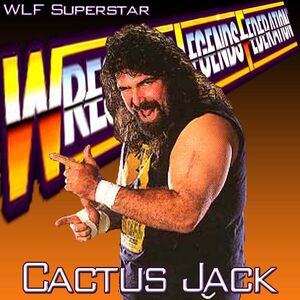 On 23 March 2012 he returned again, but this time under the persona of Cactus Jack. He made his debut in a triple threat steel cage match against the Big Show and Big Daddy Cool Diesel.
On 18th June, Cactus Jack wrestled a one-off match as Mankind.
On 15 Oct, he joined Chainsaw Charlie in a hardcore tag team match against Chessman and Christopher Knight.
Foley departed the WLF at the end of 2012
Mick made a one off appearance at the Royal Rumble in 2014 when he won a 15 man invitational battle royale.
Foley (as Cactus Jack) once again returned to the WLF on 13 May 2014 as a mystery opponent in a match with four other partners against the three members of Violent Impact. He made the pinfall on Maestro Punk to get the win for his team. He was also revealed as Paul Heyman's latest acquirement.
In June 2015 he started tag teaming with Rock as the Rock N Sock Connection
Mar 2012: poppycock
2014: Vinny1979