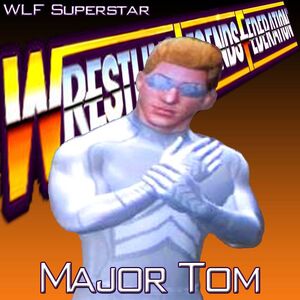 Major Tom is an American pro wrestler, who had a short and successful career with the WLF.
He also tag teamed with AJ Styles as the Wing Commanders.
WLF Career
Edit
He made his debut on 16 January 2012 when he defeated Big Van Vader. After winning the match he challenged the Four Horsemen declaring that he was coming for them.He also expressed interest in joining the Million Dollar Corporation, however Ted DiBiase would not have him, claiming he did not have the attitude needed for his Corporation.
At Wrestemania in April 2012, Major Tom began tag teaming with AJ Styles as the Wing Commanders. During his time in the WLF, Major Tom teamed regularly with Danny B and Andrew Darner of the Demolition Express.
Not long after that he departed from the WLF, but he did return on 22 April 2013, at Wrestlemania II, to compete in a 30 man battle royale, the winner of which would win a full time contract with the WLF. He was unsuccessful in his bid.
Section heading
Edit
Write the second section of your page here.