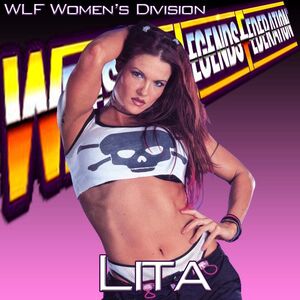 Lita is an American professional wrestler and manager.
She is a former WLF Diva's champion.
WLF Career
Edit
Lita first made a one-off appearance in the WLF on 21 May 2012, as the mystery partner of Trish Stratus where they competed against and defeated the Colossal Kongs.
She returned to the WLF full time at the beginning of 2013 as the manager of the Hardy Boyz.
Although mainly a manager, she made her debut match, teaming up with the Hardy Boyz against Bull Nakano and Sin and Salvation on 11 March 2013
After the Hardy Boyz left the WLF she focussed on a solo career and became WLF Diva's champion on 21 Oct 2013 at Halloween Havoc when she pinned champion Poison Ivy in a triple threat match. Also in the match was the returning Booty Girl; Vanessa Dante.
On 3 Feb 2014, Lita lost her title to Paige and departed the WLF immediately afterwards.
She returned on 22 Sept 2014 as the manager of Edge.
Current Clients
Edit
Former Clients
Edit
Hardy Boyz