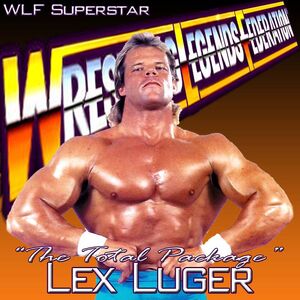 Lex Luger is an American pro wrestler  who has occassionally worked for the WLF and the NWA.
A former member of the NWO/Wolfpac
Former member of the Expendables.
Former tag team champion.
Regularly tag teaming with Sting
WLF Career
Edit
Luger made his debut on 17 Oct 2011 as a mystery opponent for the Ultimate Warrior. He was brought in by the Million Dollar Man Ted DiBiase. Luger failed to defeat the Warrior so DiBiase assaulted him and beat him after the match. Shortly after Ted Arcidi, Barry Windham and Tully Blanchard came in to assist Luger. It looked for a moment as though he was going to be the 4th member fo the 4 Horsemen, but then the three assaulted Luger which put him out of action.
Luger made an appearance on 4 June 2012 in a ten man tag match teaming up with the Four Horsemen, but ultimately ended up in the NWO.
On 1 Oct, NWO (now Wolfpac) leader Crristopher Knight fired Luger from the Wolfpac, thus ending his career in the WLF. Luger returned at Halloween Havoc as part of a new super group of wrestlers who were fired from the NWO by Christopher Knight. That group was called the Expendables
Come March 2013, Luger began teaming with Sting in tag team competition.
On 13 May 2013 he, along with Sting beat the champs, the Mega Powers and the Dudes with Attitudes to win the WLF tag team championship which they held briefly for just under a month before losing it to the Legion of Doom in a triple threat match on 10 June 2013
After Summer Slam Luger parted ways with the WLF.
2012-2013: Nexus619