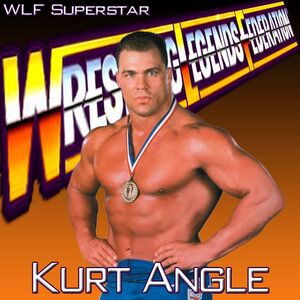 Kurt Angle is an American pro-wrestler and Olympic gold medalist. He currently contracted to the WLF, but was briefly a part part of the NWA.
He was a former member of the NWO/Wolfpac
He was a member of the Expendables.
WLF Career
Edit
Angle first appeared on Prime Time 26 Sept 2011 when he taunted the Super Patriot saying he was a disgrace to America. On 3rd Oct he stepped into the ring with Diamond Dallas Page to face the Super Patriot and Goldberg in a tag team competition. He successfully pinned the Super Patriot to win the match for his team
Kurt did not appear in the WLF again until 4 June 2012 when he was announced as the newest member of the NWO and teamed with the Steiner Brothers vs the Rockers and Diesel.
On 1 Oct, NWO (now Wolfpac) leader Christopher Knight fired Angle from the Wolfpac.
Angle returned at Halloween Havoc as part of a new super group of wrestlers who were fired from the NWO by Christopher Knight. That group was called the Expendables. A short while later he left the WLF.
On 22 April 2013, at Wrestlemania II, he returned to compete in a 30 man battle royale, the winner of which would win a full time contract with the WLF. He was unsuccessful in his bid, but two months later was offered a full time contract anyway. He made his triumphant returnin in June defeated Vader in his first match back.
He left the WLF in early 2014 due to agravated injuries.
Notable Feuds
Edit
Hulk Hogan
Jeff Jarrett
2011: CHAZmaniac
2012: Nexus
2013-2014: TheBartFoundation