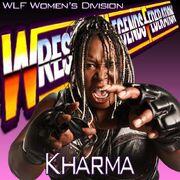 Kharma is an American pro wrestler assigned to the WLF Diva's division.
She ocassionally tag teamed with Bull Nakano as "The Collosal Kongs" until they split in March 2013.
Formerly managed by Sunny. Now managed by Armando Estrada
Briefly tag teamed with Trish Stratus and was co-holder of the diva's tag team title.
WLF Career
Edit
Kharma first appeared in the WLF on 6 February 2012, brought in by Sunny. She attacked Nasty Girl. The following week she tagged with Bull Nakano against Nasty Girl and Kelly Kelly.
On 11 March 2013, Kharma and Bull Nakano were guest on the Brother Love show. Brother Love announced that he was putting together a team called the Royal Flush. However he then announced that there was to be only one queen in the flush and that was Bull Nakano. Bull then brutally assaulted her former tag team partner.
Kharma was gone for over a year before returning again as the mystery partner of Trish Stratus to take on Nasty Girl and Belle on 1 Aug 2014. Trish Stratus was the sole holder of the WLF diva's title and taking on Kharma as her tag team partner made Kharma co-holder of the WLF diva's title. They had to drop the title shortly afterwards due to injuries.
At WrestleMania IV on 4 May 2015, she revealed herself to be part of a new group of divas, managed by Armando Estrada. A group called KHAN which also included Havok, Alpha Female and Bull Nakano.
Kevin7ee (2012-2013)
Nexus619 (2014)
Kevin7ee (2015)