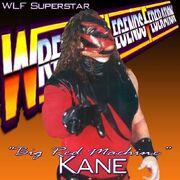 Kane is an American pro-wrestler.
He is the former tag team partner of the Undertaker teaming as "The Brothers of Destruction".
He was once managed by Paul Bearer
WLF Career
Edit
Kane made his first appearance on 14 Nov 2011 in the corner of Irwin R Shyster as he took on Shawn Michaels. He made his debut match on 21 Nov 2011 defeating Marty Janetty. After the match, Big Daddy Cool Diesel attacked Kane.
Kane disappeared not long after but reappeared at Wrestlemania in April 2012 interferring in a match between the Undertaker and Ted Arcidi. The Brothers of Destruction tag team was reborn!
Kane departed the WLF after Summer Slam 2013.
He made a one-off appearance on Prime Time 15 April 2014 when he was the Undertaker's hand picked opponent against Josh Arcanum. Arcanum defeated Kane, threw him into a casket and set it on fire.
Notable Feuds
Edit
Big Daddy Cool Diesel
Ted Aricidi
2011- Feb 2012: jka12002
2012-2013: Nexus