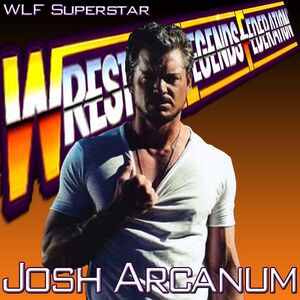 Josh Arcanum is a pro-wrestler once contracted to the WLF
He is a former WLF champion.
WLF Career
Edit
Arcanum made appearances on WLF Superstars and Prime Time in June 2013. .
He had his debut Prime Time match on 10 June 2013 defeating the Ultimate Warrior.
Survivor Series 2013, Josh became WLF champion when he defeated champion; Jake Roberts and Bruiser Brody in a Hell in the Cell match. At the Royal Rumble in Feb 2014, he lost the title in a Hell in the Cell rematch to Bruiser Brody. For most of the match he was not able to enter the ring due to Jake the Snake locking him out by chaining the door shut.
Josh retired from wrestling at the end of 2014
Notable Feuds
Edit