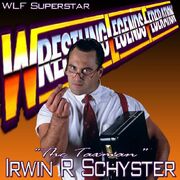 IRS is an American Pro wrestler, one of the first to be assigned to the WLF.
WLF Career
Edit
On 30 May 2011, IRS made his first appearance in the WLF accusing WLF owner Gordon Gekko of being a tax cheat. In retaliation, Gekko put him in a match against a mystery opponent. That man turned out to be Kwang the Ninja. IRS defeated Kwang.
IRS continued his investigation on Gordon Gekko, which resulted in an angry Gekko putting him in a Gauntlet match against 3 other wrestlers: Crush, Nailz and Waylon Mercy. IRS brought with him his new bodyguard Giant Gonzales as added protection. Thanks to Gonzales interference, IRS managed to get through the first two opponents before getting himself disqualified. The match was later extended when IRS was forced to face Damien DeMento, Phantasio and Bastio Booger. IRS once again threw the match, this time getting himself counted out.
The following week on Prime Time during a Brother Love interview, Gordon Gekko finally offered IRS a contract.
In mid June IRS he went on a sabattical but returned on 5 Sept 2011, once again determined to cause trouble for Gordon Gekko. He brought with him two assistants in the form of the Repo Man and Virgil.
On 16 Jan 2012, he competed in a 6 pack challenge. Absent were his assistants Repo Man and Virgil. He returned the following week and attacked Owen Hart.
He did not stay around for long though and has only been seen one more time in the WLF as a surprise entrant in the World War III battle royale event on 2 July 2012
On 22 April 2013, at Wrestlemania II, he returned to compete in a 30 man battle royale, the winner of which would win a full time contract with the WLF. He was unsuccessful in his bid.
Notable Feuds
Edit
Diesel
Owen Hart
2011-2012: jka12002