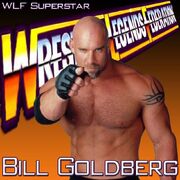 Bill
Goldberg is an American pro-wrestler formerly contracted ot the WLF. He is a one-time WLF Intercontinental champion.
WLF Career
Edit
Goldberg made is WLF debut on 26 Sept 2011 when he defeated Super Patriot by pinfall.
At Halloween Havoc 24 Oct 2011, he competed in War Games along with the Red Rooster, Macho Man Randy Savage  and Ricky the Dragon Steamboat vs the Four Horsemen. There was supposed to be a mystery horseman, horseman number 4. That horseman turned out to be the Dragon himself. The Dragon betrayed his team and joined the Horsemen, thus ensuring that the Horsemen won War Games.
Won a 6 pack challenge on 16 Jan 2012 to become the number 1 contender for the Intercontinental title.
On 20th Feb 2012, at the Royal Rumble, Goldberg defeated Intercontinental champion Jose DeJesus and Super Patriot, in a triple threat match, to capture the WLF Intercontinental championship.
On 23 April 2012 at Wrestlemania Goldberg lost the Intercontinental title to the Rock in a Fatal Four Way match which also included Bad News Brown and Super Patriot.
Following a short absence, Goldberg returned to the WLF, to face Rocco Glenbridge in a Pick Your Poison Match. Goldberg was chosen by Danny B. Goldberg won the match via countout.
Come 2013 Goldberg disappeared from the WLF but returned to take Danny Bravo's corner at Wrestlemania 2 during his triple threat match for the world title. He ended up betraying Bravo costing him a victory. On 21 May 2013 he took on Danny Bravo with the promise of a permanent WLF contract if he won. He was unsuccessful in his bid.
Goldberg was finally granted a full time contract and returned full time to the WLF on 21 Oct 2013 at Halloween Havoc where he joined Andre the Giant and the Rock to defeat Goldust, Bad News Brown and Bruiser Brody.
2011-2012: Chiliman96b
2013: DojoBrother