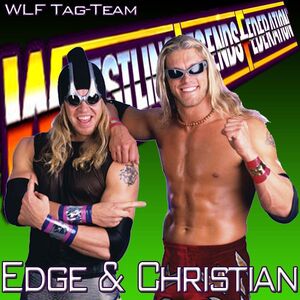 Edge and Christian Cage are a pro-wrestling tag team who are currently contracted to the WLF.
They were breifly managed by Nasty Girl
WLF Career
Edit
Edge and Christian first appeared in the WLF competing in the tag team battle royale at Independence Day 2011. They were unsuccessful at capturing the WLF tag team title. The following week it was revealed that they were part of Terror Inc along with Ov Terror. 
Edge and Christian were active throughout the next year, but then took a short break. They returned at Survivor Series 2012 with Nasty Girl as their manager, however she dumped them by the end of the year
Edge left the WLF but Christian's contract was renewed in the singles division for a short while
On 22 April 2013, at Wrestlemania II, they both returned to compete in a 30 man battle royale, the winner of which would win a full time contract with the WLF. Neither was successful in their bid.
They returned again on 5 Aug 2013 when they came in and attacked the Hart Foundation after their match against the Moondogs.
Notable Feuds
Edit
2011: wholefnjobber
2012- now: Outsider111