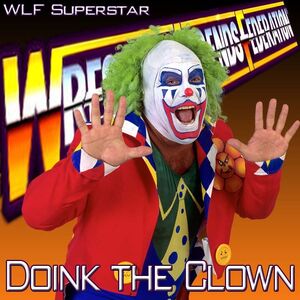 Doink the Clown is an American pro-wrestler who is contracted to the WLF.
He is accompanied to the ring by Dink
He is a member of "Sane"
WLF Career
Edit
Doink first appeared in the WLF on 19 Sept 2011, when he humiliated IRS after a match againt the Red Rooster. The following week he made an appearance down ringside and humiliated the Grand Wizard by smashing a cake in his face. The week after that he interferred in a match between the Red Rooster and Diamond Dallas Page, costing DDP the match.
Doink has his debut match on 10 Oct 2011 in a 6 man tag match when he teamed with APA against DDP, Edge and Christian, but disappeared from the WLF soon afterwards.
He made another appearance in the WLF a year later on 8 Oct 2012, when Rocco Glenbridge decided to take a break in Hawaii and had Doink the Clown wrestle in his place.
On 11 April 2013, Doink  appeared on WLF Superstars. He was booked to compete in the Wrestlemania 2 Invitational Battle royale, the winner of which was gauranteed a full time contract with the WLF. His opponent on Superstars was newcomer Damien Sandow, however Sandow refused to wrestle him, claiming that he was an inferior opponent. Doink failed to win a contract at Wrestlemania.
Doink was finally offered another full time contract in October 2013 and returned...
On 31 March 2014, he aligned himself with the returning Ov Terror and became part of Sane.
He left the WLF at the end of 2014
Notable Feuds
Edit
Diamond Dallas Page.
2011 = ?
2013-2014 = Outsider111