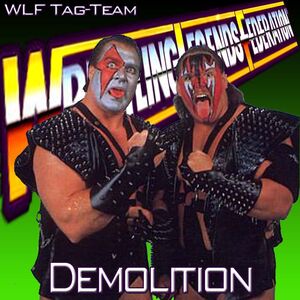 Demolition are a tag team made up of Ax and Smash.
They are former members of the NWO
They are former 2x WLF tag team champions.
WLF Career
Edit
They first made a one off appearance in the Tag Team battle royale at the Independence Day PPV 2011, but were unsuccessful at capturing the title. They turned up again Oct 17th in a tag team battle royale, but were eliminated from it.
They made a further one-off appearance in November at Survivor Series in a classic elimination style match. They were disqualified from the match for illegal brawling with the Legion of Doom
Demolition returned yet again in time for Wrestlemania in April 2012 wrestling in a mixed person 10 man tag match.
On 4 June 2012 they again made their way to the WLF, this time as members of the NWO, however did not remain in the WLF long.
Once again they returned on 19 March 2013, replacing the missing Stooges in a match against Harlem Heat.
At World War III on 24 June 2013, they defeated the Legion of Doom in a Texas Tornado match to become WLF tag team champions.
At Summer Slam in Aug 2013 they lost the titles in a 4 team match to the Hart Foundation. Also in the match were Luger/Sting and the Twin Towers.
On 10 Feb 2014 they regained the WLF tag team championship when they defeated the Hart Foundation thanks to mistimed interference by Owen Hart. They however lost the title again a week later at the Royal Rumble when Legacy defeated them and the Hart Foundation in a 3 way tag team dance.
2012: Nexus619
2013-2014: Frank Rizzo