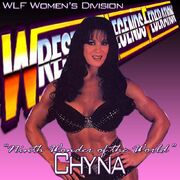 Also known as the 9th wonder of the world, she is a pro-wrestling diva previously signed to the WLF. She was aligned with the New Age Outlaws.
On 12 Sept 2011, Chyna was defeated in a "do or die" match when she took on woman's champion Natalya Belaya. She was forced to leave the WLF.
WLF Career
Edit
Chyna made their first appearance in the WLF on 18 July 2011, when she and the New Age Outlaws ambushed Hulk Hogan and beat him up badly. She had her debut match the following week in a mixed tag match along with the NAO vs Maryse, Mr Perfect and the Macho Man Randy Savage. She pinned Maryse to win the match for her team.
On 5 Sept 2011, woman's champion, Natalya Belaya offered Chyna a shot at her world title, but if she lost she had to leave the WLF. The following week Belaya defeated Chyna which forced the 9th wonder of the world out of the WLF.
Chyna made one other appearance in Feb 2012 at the Royal Rumble when she appeared as the surprise entrant into the 8 diva tag team match for the vacated woman's champion. She was unsuccessful in her bid to win the championship and was once again gone from the WLF.
Section heading
Edit
Write the second section of your page here.