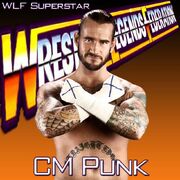 CM Punk is an American wrestler contracted to the WLF.
He was once managed by Paul Heyman
He is a former WLF Intercontinental champion.
He is a former 2x X-Division champion.
He is the former leader of the nWo Wolfpac.
He is the former leader of Nexus.
WLF Career
Edit
Punk first appeared in the WLF on 30 Jan 2012 as the mystery partner of Jose DeJesus and defeated Goldberg and the Super Patriot.
He did not return to the ring again until November when he made his debut match against Jose DeJesus
On 14 Jan 2013, he was commentating on a title match between Christopher Knight and Chessman. Knight successfully retained his belt, but CM Punk entered the ring and kicked him from behind. He then clocked Knight over the head with the championship bout, covered him and demanded that the ref make the count. Because of the 24/7 rule the pinfall counted and Punk became the new WLF X Division champion. 
On 22 April 2013, at Wrestlemania II, he lost the title in a Four Man Bowry Cage match to Raven, however a week later he regained the title when he interferred in a match between Raven and Goldust, taking advantage of the 24/7 rule yet again to become champion. A week later he lost the title again, this time to Goldust.
CM Punk was forced out of wrestling in early 2014 due to injuries but returned in May 2014, fully healed and competed in a ten man battle royale in which he was the last man eliminated.
On 20 Oct 2014, CM Punk won a triple threat match to become WLF Intercontinental champion. He lost it two weeks later back to Edge.
X Division Championship
Edit
1st reign: 14 Jan 2013 - 22 April 2013
2nd reign: 13 May 2013 - 21 May 2013
2013-now: Nexus619