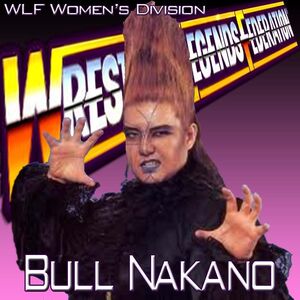 Bull Nakano is a pro wrestler contracted to the WLF. She is part of the diva division.
She is a former WLF Diva's champion.
She ocassionally tag teamed with Kharma as "The Collosal Kongs" until they split in March 2013.
Formerly managed by Sunny, then later Brother Love, then later still Jimmy Hart. Now managed by Armando Estrada
WLF Career
Edit
Bull first appeared in the WLF on 24 Oct 2011 and attacked woman's champion Natalya Belaya at the order of Sunny. She made her debut appearance on 7 Nov in a triple threat match against Krystal Aos and Maryse, which she won after forcing Aos to submit. Natalya Belaya turned up after the match to stare down Bull.
She had her debut match on 21st Nov 2011 against Nasty Girl
She tag teamed with Kharma off and on until 11 March 2013.  Kharma and Bull were guests on the Brother Love show. Brother Love announced that he was putting together a team called the Royal Flush. However he then announced that there was to be only one queen in the flush and that was Bull. Bull then brutally assaulted her former tag team partner.
She finally captured the Woman's title at Wrestlemania II in April 2013 when she defeated 13 other women, including champion Vanessa Dante in a battle royale.
At Summer Slam 2013 she lost her title to Poison Ivy after she cashed in her recently won MITB briefcase.
Took some time off wrestling, but returned in mid June 2014 with Jimmy Hart as her manager.
At WrestleMania IV on 4 May 2015, she revealed herself to be part of a new group of divas, managed by Armando Estrada. A group called KHAN which also included Kharma, Havok and Alpha Female.