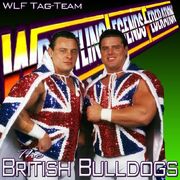 The British Bulldogs are and English tag team who have wrestled for the WLF in the past. They are Davey Boy Smith and the Dynamite Kid.
WLF Career
Edit
The Bulldogs made a one off appearance in the Tag Team battle royale for the WLF Tag team titles at Indendence Day 2011, but didn't official sign a contract with the WLF until  later in July. They made their official debut match on the 25 July 2011 against the Mega Bucks.
Come 2013, the Bulldogs were gone from the WLF however on 8 April 2013, Davey Boy returned as a solo wrestler.
Notable Feuds
Edit
The Million Dollar Corporation
Bret Hitman Hart
2011: kg24nmfan