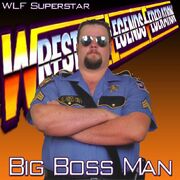 The Big Boss Man is an American pro-wrestler from Cobb County Georgia.
He tag teamed  with Akeem as "The Twin Towers"
Temporarily tag teamed with Judge Dredd as "Corporal Punishment"  March - June 2013.
He is a 2x WLF Tag Team Champion
He was managed by the Doctor Of Styles, Slick
He was a member of the Million Dollar Corporation.
He was fired from the Corporation in Nov 2013. Due to a contract stipulation it also meant he was fired from the WLF.
WLF Career
Edit
See the Twin Towers and Corporal Punishment
The Boss Man made a one-off appearance at the Royal Rumble 2014 to wrestle Ted DiBiase on behalf of Christopher Walken. He defeated DiBiase which ensured that Walken got to be president of the WLF for a month.