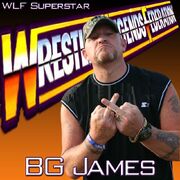 BG James is an American Professional Wrestler formerly contracted to the WLF. He was origianally signed with the WLF as a member of the New Age Outlaws under the name Road Dogg Jesse James. He later returned to the WLF under his own name, and working for Vince Russo.
WLF Career
Edit
BG James initially started out his WLF Career as a memeber of the New Age Outlaws, teaming with Billy Gunn. This run ended in 2011, after which he was not seen on Prime Time until February of 2013.
On the Prime Time before the Royal Rumble, James returned to the WLF working for Vince Russo. His return was marked by an attack on Scott Hall, who was in the midst of a match with another associate of Russo, Jeff Jarrett. James interfered by hitting hall in the leg with a lead pipe, while Jarrett distracted the referee. After Jarrett forced Hall to submit, Russo lead James and Jarrett on an assault of Hall.
James made his wrestling debut in the 2013 Royal Rumble Match, entering at number 21 and being eliminated a short while later by Hulk Hogan.
Come Mid 2013, BG James contract was not renewed and he left the WLF.
In Wrestling
Edit
Managed by
2011: shawndonwan
2013: Chiliman96b