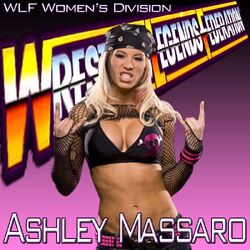 Ashley Massaro is a female wrestler under contract with the WLF. Massaro is the girlfriend of WLF Superstar Dangerous Danny B. She has accompanied Danny B to the ring during the Four-Way match to determine the Number 30 spot for the Royal Rumble, and actively participated during Danny B's recent Superstars match.
WLF Career
Edit
Ashley Massaro joined the WLF in February of 2013, as the new valet of Danny B. During the March 7th edition of WLF Superstars in San Angelo, TX, Massaro assisted Dany B by giving BG James (who was assaulting Danny B with a ring bell) a low blow, then slapping him across the face.
Ashley made her first in-ring appearance against Poison Ivy on 11 March 2013.
In Jun 2013, she decided to take a break from wrestling, but returned in June 2015 to support Dangerous Danny B.
Chiliman96b 2013