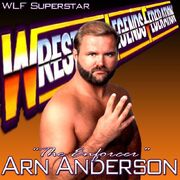 The Enforcer... or Double A, Arn Anderson is an American pro-wrestler previous signed to the WLF and NWA at different stages.
He is one half of the Brainbusters tag team alongside Tully Blanchard and was a member of the Four Horsemen.
WLF Career
Edit
Arn first appeared in the WLF in a Triple threat match on 1 Aug 2011 against Razor Ramon and Shawn Quinn. Arn was not seen again until 20 Feb 2012 at the Royal Rumble where he tag teamed with Barry Windham, replacing Tully Blanchard who had to pull out due to injuries.
The following week however, Arn's fellow horsemen turned on him and beat him up.
Despite the attack on Arn, after Wrestlemania Ric Flair took over management of the Four Horsemen, while Barry Windham too over the leadership from Ricky The Dragon Steamboat. Arn Anderson was brought in to replace Steamboat.
After Survivor Series 2013, the Four Horsemen disbanded due to Flair being forced out due to injuries. He did not return in the new year.
2011-2013: Kevin7ee and then taken over by Frank Rizzo