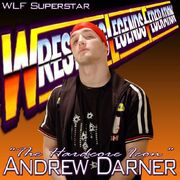 The Hardocre Icon, 
Andrew Darner is a former WLF pro-wrestler. He is a former Tag Team champion, having teamed with Dangerous Danny B as The Demolition Express..
WLF Career
Edit
Darner made his debut on 25 July in a 6 way ladder match.
On 12 Sept 2011 he went from a solo career to tag teaming with Dangerous Danny B as the Demolition Express. They debuted in a match agianst the APA
Refer to Danny B.for further information.
2011: andrewrules61397
2012: Chiliman