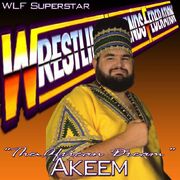 Akeem aka: The African Dream is an American pro-wrestlers who claims to be from Deepest Darkest Africa.
He tag teamed with the Big Boss Man as "The Twin Towers".
He is a 2x WLF Tag Team Champion.
He was managed by the Doctor Of Styles, Slick
He was a member of the Million Dollar Corporation
He was fired from the Corporation in Nov 2013. Due to a contract stipulation it also meant he was fired from the WLF.
WLF Career
Edit
See "The Twin Towers"
Section heading
Edit
Write the second section of your page here.