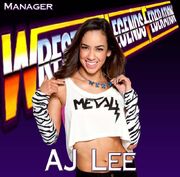 She first appeared in the WLF in August 2012 as  the valet of former WLF Woman's champion, Vanessa Dante.
She is not an active wrestler, although has on the odd ocassion been signed into a match and has held her own successfully.
She has been in a polyamorous relationship with Vanessa Dante and Dante's husband (WLF journalist Recker)
She was briefly romantically linked with WLF superstar James Bond, but AJ ended the affair, feeling that Bond was not debonair, handsome or sexy enough for her. She claimed that after being with a man like Recker, she could never settle for anyone else as no one could live up to his standards.
She was briefly associated with Poison Ivy before departing the WLF in late 2013
She then returned in early 2015 as a manager.
WLF Career
Edit
Came into the WLF as the valet of Vanessa Dante in August 2012.
On 15 October, manager Sunny was put in charge of booking Prime Time. In an unexpected twist she assigned AJ to a battle royale involving 7 other divas. AJ put up an impressive performance and was the last woman to be eliminated, lasting longer than even Booty Girl.
She entered the ring again, this time voluntarily to team with Booty Girl and three other divas at Survivor Series.
She was once again roped into a match, this time in a 16 diva battle royale for the worman's title at Wrestlemania II. She was eliminated during the match and set upon by Poison Ivy. Vanessa Dante eliminated herself to rescue AJ.
In early June 2013 she was abducted by Poison Ivy along with Nasty Girl in an attempt to get to Vanessa Dante. Ivy attempted to bury them both alive, but Vanessa Dante arrived just in time to stop her. A "Buried Alive" match was agreed upon at Word War III, where Vanessa vowed it would be her last match and that she was going to make Ivy pay for what she had done to Nasty Girl and AJ. An added stipulation was that if she lost the match then AJ would become the valet of Poison Ivy. Dante lost the match and AJ became Ivy's valet, however it soon became obvious that AJ had developed a bond with Ivy, perhaps as a result of Stolkholm Syndrome.
AJ's relationship with Poison Ivy did not last long however as Ivy turned on her. Vanessa Dante had returned to the WLF at the time, but they did not renew their relationship and AJ departed from the WLF.
She made a special one off appearance on 3 Nov 2014 as Poison Ivy's mystery opponent chosen by Booty Girl Vanessa Dante. AJ won via disqualification.
She returned in 2015 as a manager for BloodRayne.
Current Clients
Edit
Former Clients
Edit
Vanessa Dante (1x Diva championship)
Recker Aug 2012 - June 2013
Outsider111 June 2013 - now